"The Video Game Music industry event of the year"
(Classic FM)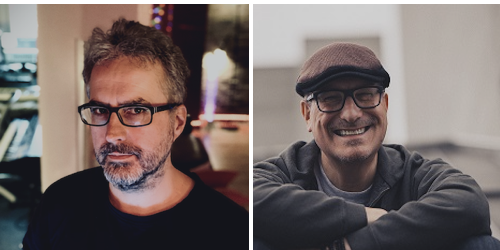 Game Music Connect has been created by multi-award winning games and TV composer, James Hannigan, and acclaimed game audio director and composer, John Broomhall, to celebrate and explore the amazing music of video games and the extraordinary talent behind it.
Created primarily for amateur, pro or semi-pro composers – from any musical background or industry – Game Music Connect's inaugural event took place on 9th September 2013 at the Southbank Centre, London, offering a rare, if not unique, opportunity to hear several of the world's leading games industry composers and audio directors assembled in one place to talk about creating music for games – from both the composer perspective and that of the developers and publishers who work with them.
Hosted by John Broomhall (Lost Ember, Phoenix Point, Forza 5) Game Music Connect speakers have so far have included industry luminaries such as Steve Schnur (Worldwide Executive and President of Music, EA), Marty O'Donnell (Halo, Destiny), James Hannigan (Evil Genius 2, Harry Potter, Dead Space 3, The Sandman), Lydia Andrew (Ubisoft), Jesper Kyd (Assassin's Creed, Hitman, Borderlands), Jason Graves (Dead Space, Tomb Raider, Evolve), Olivier Deriviere (A Plague Tale, Remember Me, 11-11: Memories Retold), Chuck Doud (Director of Music, Sony Computer Entertainment America), Garry Schyman (Dantes Inferno, Bioshock), Darrell Alexander (COOL Music), Richard Jacques (James Bond 007: Bloodstone, Mass Effect), Joris De Man (Horizon Zero Dawn, Killzone), Alastair Lindsay, Jessica Curry (The Chinese Room), Paul Lipson, The Flight (Assassin's Creed Odyssey, Alien Isolation), Stephen Lord (Jagex), Prof. Stephen Deutsch (Bournemouth University), Ben Minto (EA DICE), David Housden (Lost Words, Thomas Was Alone), Simon Ashby (Audiokinetic), Nick Ryan (Papa Sangre) and Adele Cutting (ex-EA, SoundCuts). Full List Here.
You don't need to be a composer or industry professional to be a part of Game Music Connect. Fans of soundtracks and, indeed, anyone with an interest in music for the games medium are more than welcome at any Game Music Connect event. We hope to see you soon!
Game Music Connect Partners and Sponsors have included: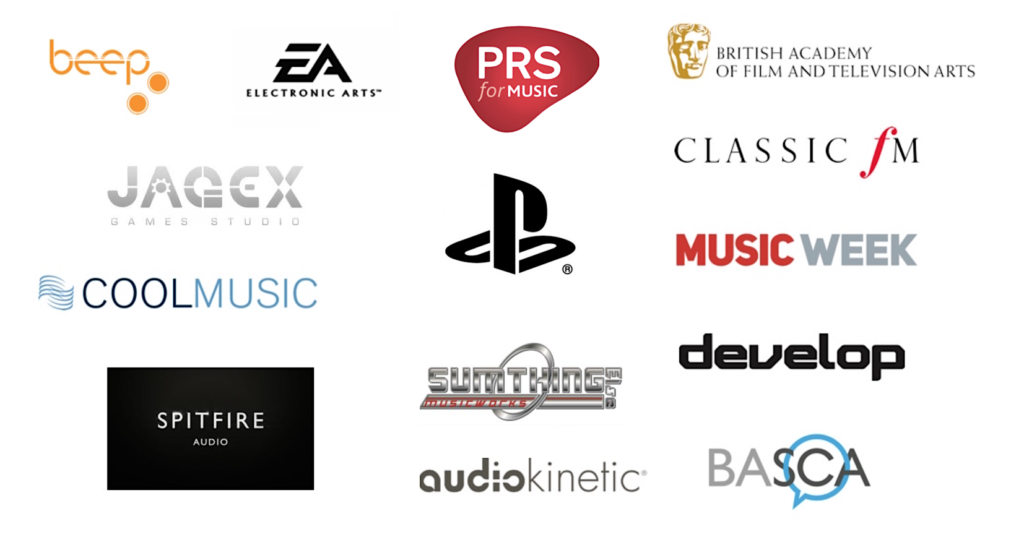 "The Video Game Music industry event of the year"
"I really recommend going, it was such a great event."
"Game Music Connect is an international summit that understands gaming's global development and is not afraid to confront the creative and economic challenges of the very near future. My 2014 keynote shared an analytical history of how EA changed the sound and impact of game music, and what we all – as executives, artists and fans – must now do to ensure the medium's continued evolution. It had a lot people talking, and I hope it started them composing, too. The conference was – and I believe will remain — an important annual event for our industry."
My experience at the inaugural Game Music Connect was spectacular. The audience was engaged and knowledgeable. The other panelists were collegial and friendly. James Hannigan and John Broomhall are two of the most talented and, more importantly, nicest composers in the business today. I hope to be invited back again someday."
"I think it gives [composers] a really strong idea of the sort of values required, building relationships, working really hard, being passionate about what it is that you do. So I hope that some of the aspiring composers really take that on board as much as any technical knowledge and practical how-tos."
"The inaugural Game Music Connect was a smashing success, and a premier opportunity to gather the brightest ears and minds in game audio together in elegant fashion. John and James facilitated open and honest discourse, and allowed speakers to share their vision with an intelligent, engaged audience. Game Music Connect is perfect for all skills levels and professional backgrounds, and I wouldn't hesitate to participate again."
"It's my sincere hope that what John Broomhall and I have created with Game Music Connect will, in a multitude of ways, serve the video game music making (and consuming) community for many years to come."
"The great thing about events like this is that you can learn so much. Somebody came up to me earlier and said I've learned more today than I did in a year's course at university. I think that says it all."
"Game Music Connect is unique. Having a full day event dedicated to video game music with some of the industry's top composers and Audio Directors is not to be missed. Lifting the lid on how both composers and developers work together will give a rare insight for anyone wanting to get into the industry or even if they just have an interest in video game music."
"I had a fascinating time speaking and being interviewed at last years Game Music Connect. All of the speakers brought their unique ideas and experiences to the table and I found myself not only contributing but learning a great deal as well. One of the best parts however was finding the opportunity to meet and talk with all of the interesting and talented attendees. I highly recommend this event to anyone interested in the field of composing for games."
"These kinds of events are so good to explain how we do things, how the business works, how as a composer they can break into the industry, about a lot of technical advances that they may not know much about or even be aware of. And we're here to help build community spirit and educate the audience, to share common goals and practices to evolve and push the industry forward."
"Game Music Connect was an amazing event that offers a unique insight into composing within the video games industry and the challenges it offers. I loved every minute of it and there was such a range of knowledge and advice on offer from different perspectives that was helpful in understanding the industry. I hope this is the first of many!"
"We have an entire day dedicated to music for games. I know that sounds very simple but the bottom line is there aren't that many [events] in the world that do that."
"Game Music Connect was a breath of fresh air, I found the demeanour and passion of the panelists incredibly engaging and refreshing. It's perfectly evident that the games industry – whilst a global business – has essentially evolved due to the passion and engagement of both its creatives and end users. It's completely different from the film and TV world – perhaps due to having developed from the computer business rather than the entertainment industry. I'll definitely be returning next year…."